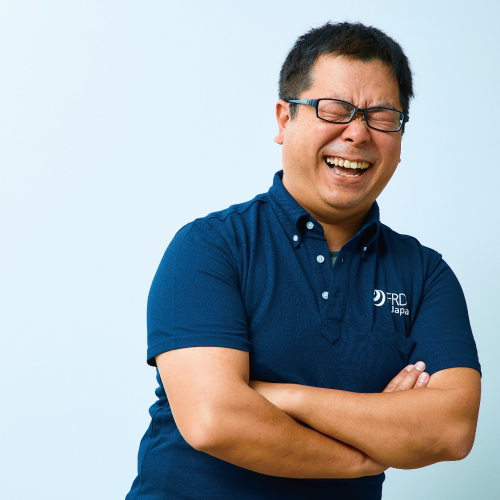 Work history: Fishery company → Marine research company → FRD Japan
Position: Kisarazu Plant Manager
After graduating, I joined Owase Bussan Co. After spending time immersed in the field of marine aquaculture, mainly yellowtail, I moved to an environmental consulting company with overseas contacts in my seventh year of working. At this new workplace, I was engaged in marine resource survey work. Around this time, I began to think more about how I could realize my dream from my university days of "technology transfer from Japan to overseas."
After leaving the aquaculture business, I realized how much I loved fish, and I found FRD Japan by chance. I thought it would be a great thing if the Closed RAS system can be realized commercially, and it could drastically change aquaculture. Also, considering the strength of the technological characteristics and the market, I thought the company was assuming overseas expansion.
How I decided to change jobs and joined the company
While working for a marine research company after leaving the fishery company, I realized that I not only loved fish but that aquaculture was my true calling. It was a coincidence that I learned about the existence of FRD Japan. But it seemed interesting, and I applied for a job at HP without thinking deeply. Frankly, what I wanted to do was to see a facility that could farm "anywhere salmon!" I knew about the closed RAS system concept, but my image was just how many problems it would have to solve. However, when I visited the plant, my passion for aquaculture was rekindled. After an enthusiastic interview with Tsuji, Koizumi, and Sogo, I was eager to do this dream job in front of them. It didn't take me long to make up my mind to join the company.
The attractiveness of the company after joining/work content and feelings for work
We have the equipment and technology to farm fish without oceans or lakes, a project that no one has yet commercialized, which will help solve food problems. By promoting this business, we can also help preserve the natural environment. If you are interested in it, how can you not find it interesting?
 In my daily work, I was in charge of a wide variety of tasks based on a fish farming plant's operation, regardless of my expertise. Of course, there are routine tasks, but they are not the only ones, and there are continuous issues to be solved. There are many issues for which there is almost no information available. It is hard to manage to overcome them using various approaches. Still, at the same time, it is also challenging. To be honest, it is rare for things to go well, and there are always failures. So, it is required to have the enthusiasm to continue without giving up. For better or worse, it may be necessary to have an unwillingness to give up.
The list of challenges is limitless, but the joy you feel when your hard work pays off is priceless. Why don't you impact the world by successfully developing the closed RAS system that no one has yet commercialized?
// ENTRY
"We open up the potential of aquaculture."
FRD Japan is looking for human resources to challenge together